Leslie C. Copeland
was born in rural Kansas in 1887 to
Willis Emerson Copeland
and
Fannie Amelia Searles
, who were originally from Maine and New York respectively. Later accounts in census and, surprisingly, U.S. passport records vary, usually putting his birth at 1890. But military and earlier census records confirm the 1887 year of birth. Leslie was the youngest of six children, having been preceded by
Ellen
(1870 - with Willis' first wife
Edwina Lincoln
) and
Clarence Calvin
(2/4/1875),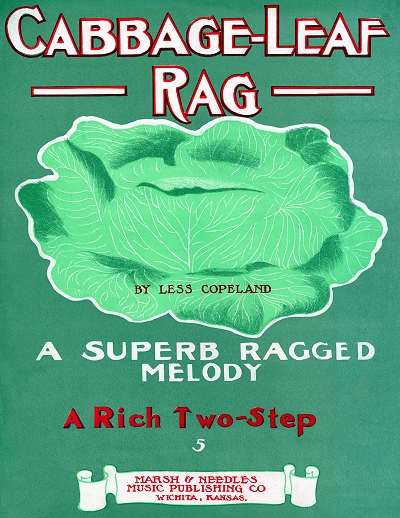 both born in Missouri,
Edwin Lincoln
(4/5/1877), and
Jessie Edith
(9/30/1881), both born in or near Peoria, Illinois, and sister
Annete "Nettie" Lillian
(2/24/1884), who was also born in Kansas. Growing up in the Wichita area, Leslie's exposure to ragtime would largely have been from traveling musicians, some from as close as nearby Missouri, an early source of authentic ragtime styles. He was shown living in Wichita for the 1900 enumeration at age 13 with older sisters Jessie and Nellie still in the home. He also was an acquaintance of
S. Brunson Campbell
, a white player who had studied with
Scott Joplin
in Sedalia, Missouri. The period of their acquaintance or when they first met is unclear, although both grew up in Kansas and were relatively close in age.
In his late teens, having become a fairly accomplished pianist, Les started working with traveling shows, soon landing a job with the famous
Lew Dockstader Minstrels
. With this troupe he not only saw much of the Midwest and Eastern United States, but also went to England and Europe to perform in front of royalty. Brun Campbell recalled him performing
Scott Joplin
rags for the King of England, but the validity of this claim is uncertain. Singer
Al Jolson
was part of this troupe for a time as well, predating and possibly overlapping Copeland's tenure. The 1910 census showed Les lodging with the troupe in Houston, Texas, listed as a theater actor, indicating the possibility that he did more than just play, common in minstrelsy. In a 1909 newspaper clipping, Les is mentioned in his capacity as a pianologist as the brother of the "famous Brady Copeland," although searches found nobody during that period going by that name.
Copeland in his blackface character as part of the Dockstader company.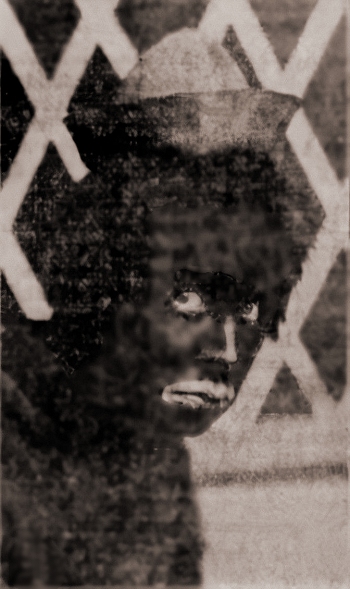 It was possibly his older brother Edwin going by that name, as Edwin listed actor as his occupation on his 1918 draft card, but no confirmation was made. Photos from 1909 and 1910 tend to show Les made up in blackface, a common minstrelsy tool of that time.
Copeland's first rag, Cabbage Leaf, had already been published by this time in Wichita. In 1911 he would write the Dockstader Rag, named for and dedicated to his first important employer, and played for a time in Dockstader shows, as was his Invitation Rag. Both were published in New York City in 1912 and 1911 respectively by the somewhat dominant house of Jerome Remick & Company. Les was also performing in the city more often by this time. Historian Dave Jasen has categorized many of his rags as comprised of styles prevalent at least a decade prior, which would echo his earliest influences in Wichita.
After 1912 Les left Dockstader's and started to perform in vaudeville, eventually working for Benjamin Franklin Keith, often regarded as the "Father of American Vaudeville." He played both in Manhattan and on the Keith-Albee circuit of theaters. In 1912 Les contributed two songs to the musical The Girl from Brighton which played for 49 performances. Honeymoon Days and Melody Man were composed to lyrics by the show's primary lyricist, Jean Havez, put alongside songs by ragtime composer George Botsford. Another piece, Luxury, may have been intended for the show, but was published separately and performed often by the composer when it was initially released. The following year saw a notable publication, one of his most popular; the 38th Street Rag, sometimes titled Les Copeland's Rag.
With the advent of "hand-played" piano roll technology, Les also embarked on a side career, recording a few memorable performances of his pieces to the punched paper rolls. At least four of his original compositions long existed only as piano rolls, although there have been recent efforts to transcribe them into an accessible sheet music form. Companies that released his rolls include Metro-Art, Wurlitzer's Rolla Artis, and Themodist. Some early acoustic recordings were made on the Little Wonder label.
In 1916 and 1917 Les had a busy run with piano rolls and performances. He also contributed a song to the 1917
Ziegfeld Follies
,
I Ain't Married No More
. His mandatory draft record that fall, taken on travel in Norfolk, Virginia,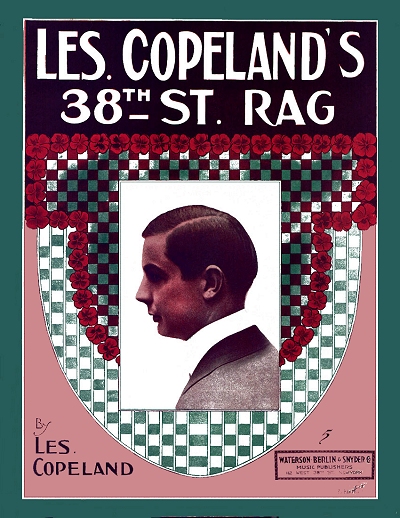 but assigned to his declared home of Wichita, showed him still employed primarily by B.F. Keith, and that he was married now. He listed his occupation as a vaudeville actor, and also confirmed that he had lost one eye, although the circumstances are not clear on this. Pictures of Les from this time on indicate that his right eye was actually glass. It is likely that this infirmity kept him from serving in World War I. In 1919 Copeland's passport application indicates that he was headed for England, although there was now no indication of him being married. His home address was still shown as in Wichita.
Les was very likely in England or Europe during the rapidly implemented January, 1920 census. He spent quite a bit of time across the Atlantic in the 1920s, even running a cabaret named the Arizona for a time in Paris and working at another in Montparnasse. Yet another club he opened in 1922 was the New York Bar, where he played and sang nightly from 10 PM until 2 AM According to comedy writer Preston Sturges, Les was certainly an amiable and jovial guy, but usually broke and looking for friendly bits of financial assistance here and there. However, he was highly regarded and sought out by Americans abroad at his haunt in the New York Bar. As relayed by heavyweight champion Jack Dempsey in his published diary about his European trip in 1922:
Later in Montparnasse in 1923 he worked at tiny The Jockey Club, which was sometimes filled to four times its capacity thanks to Copeland. On both sides of the Atlantic he ran into George Gershwin, a considerable force himself, who reportedly regarded Copeland's playing skills quite highly. Gershwin mentions in particular Copeland's left hand style of "thumping chords" sliding into a regular chord.
In 1926 Les came back to New York for a while to appear at the Deauville Club, but soon returned to the UK to work with singer Helen Trix after her sister Josephine retired from the stage. He was there through the late 1920s. One return voyage from England on the liner Olympic in March of 1926 again confirms his American address as in Wichita, as does a return trip from France on the President Harding in 1929.
By 1930 Les was back in the United States on a more consistent basis, and listed himself in that year's enumeration as a Music Composer living in Manhattan, lodging in a boarding house or tenement. There were several listings in New York papers for radio appearances touting him as a pianist and monologist, likely telling stories between songs. There is a possibility that Copeland dabbled in finances for a while. A couple of newspaper reports in 1931 indicate that "Les Copeland, former international cabaret pianist, is in Wall Street." Few details have been found on this potential detour. However, by 1933 he was reportedly back at work improvising at the keyboard in New York nightclubs.
Throughout his career there seems to be a common thread of eccentricity in Copeland's manner, as reported by many of his peers. This extended to behaviors as well as dress. There have also been accusations of either plagiarism or repurposing of themes by other composers in an effort to bolster his own works, although there is usually enough uniqueness to render such claims with the element of reasonable doubt. The most prevalent case is that of the Dockstader Rag, in which the first section closely echoes Ragtime Chimes from 1900 by Egbert Van Alstyne (who was working for publisher Remick at this time). Even though his composition style may be considered regressed to some degree, the enthusiasm of his performances cannot be denied. Copeland was also one of the more prominent Caucasian performers who helped popularize Black music to a broader audience, and indeed had some influence in the popularity of ragtime and early jazz in Europe as well.
Les traveled some during the Great Depression, but playing jobs were becoming scarce for those who did not adapt to new forms of music. He ended up in San Francisco with his new wife Hazel by the mid 1930s. A few years later the traditional jazz revival there was getting off the ground thanks to the efforts of Lu Watters and younger ragtime pianist Wally Rose. In the 1940 census Les and Hazel were living on Montgomery Street in the Golden Gate City, with Les working as a dramatic teacher, possibly in the city school system since "education" was given as the industry. Copeland died in the Bay Area nearly two years later at the relatively young age of 54.